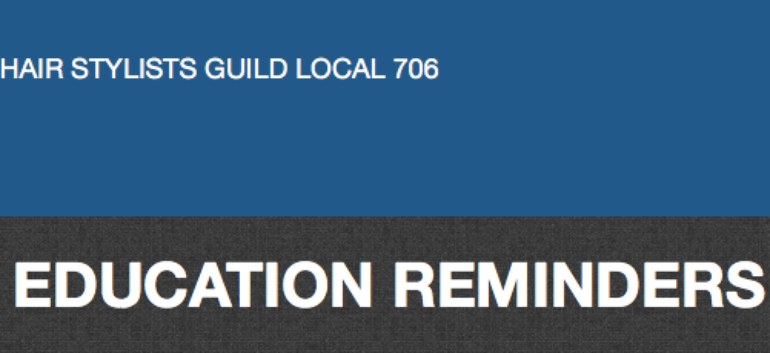 TWO EDUCATION REMINDERS FOR JULY
#1.  CSATTF SKILLS TRAINING FOR ROSTER MAKE-UP ARTISTS – "THE ART OF SCULPTING AND MAKING PROSTHETICS IN THE CONFINES OF THE MAKE-UP/HAIR TRAILER" on Sat & Sun,  July 8 - 9  from 9am to 5pm at MUD: 
Emmy Award winning Make-up Artist Brad Look has put an innovative class together to teach you how to quickly and simply sculpt and manufacture small molds and prosthetics, saving you the time and expense of having to either find store bought items or go to a lab to have them made.  His co-instructor will be Steve Buscaino, who has made a living working with prosthetics and make-up effects, working as a lab supervisor, along with being a make-up artist. 
#2.  CSATTF SKILLS TRAINING FOR ROSTER HAIR STYLISTS – "THE ART OF HIGH FASHION AND ELEGANT HAIR STYLING" on Sat & Sun, July 8-9, 2017 9AM-5PM @ MUD .  Anyone who has worked with Emmy and Guild Award winning Hair Stylist Jennifer Guerrero, or taken classes from her, will attest to the fact that this is one fine hair stylist, along with being a knowledgeable and talented teacher.  I know that you will enjoy Jennifer's teaching skills and her career knowledge. 
A CSATTF SKILLS TRAINING CLASS IN AUGUST
CSATTF SKILLS TRAINING FOR ROSTER MAKE-UP ARTISTS – "THE APPLICATION OF BALD CAPS" on Sat. & Sun, August 6-7, 2017 from 9am to 5pm at MUD:
By popular demand, Oscar nominated, Emmy and Guild Award winning Make-up Artist Ed French will again be teaching the application of Bald Caps for Roster Make-up Artists.  Ed is one of our premier Bald Cap artists, and if you have not had the pleasure of his knowledge and technique of Bald Cap application, you are in for a treat. 
For any of these CSATTF Skills Training classes we can teach up to 12 with a minimum of 8 as long as the budget allows. All these classes are a great avenue for you to increase your make-up artistry and hair styling skills and prepare you in a positive way for your next job.  Please take advantage of this valuable education. 
For all CSATTF sponsored classes, please email dburns@ialocal706.org for an application.  You must be approved prior to start date, be a member in good standing, and be on the Roster, with your I-9 up-to-date. 
There is a non-refundable payment of $50.00 needed to attend the class.

Please contact Diane to make payment.   Please remember that the Skills Training Applications must be completed in their entirety and signed and submitted to Diane.  Do not send the paperwork to Contract Services.  Please watch for any updates in your email.
If any of these classes are full when you contact Diane, please don't let that stop you from signing up.   When people drop out, those on the standby list will fill the vacancies.
---