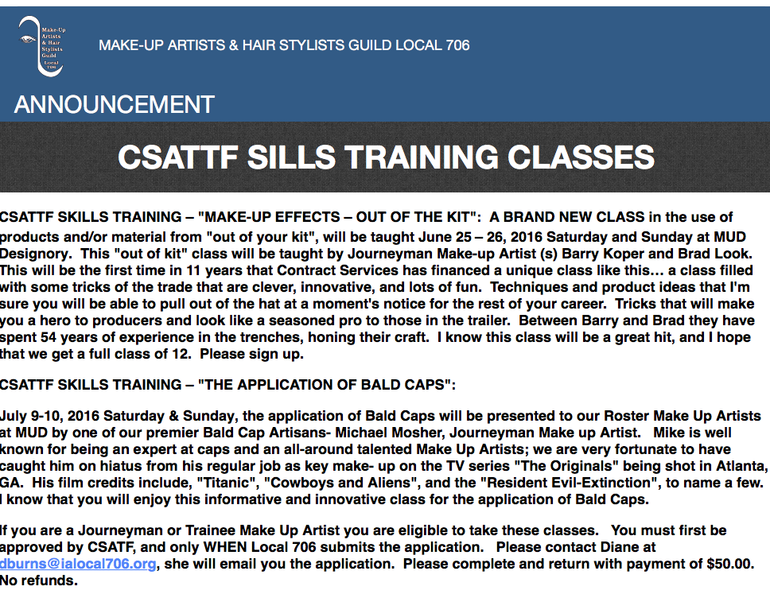 CSATTF SKILLS TRAINING – "MAKE-UP EFFECTS – OUT OF THE KIT":  A BRAND NEW CLASS in the use of products and/or material from "out of your kit", will be taught June 25 – 26, 2016 Saturday and Sunday at MUD Designory.  This "out of kit" class will be taught by Journeyman Make-up Artist (s) Barry Koper and Brad Look.  This will be the first time in 11 years that Contract Services has financed a unique class like this… a class filled with some tricks of the trade that are clever, innovative, and lots of fun.  Techniques and product ideas that I'm sure you will be able to pull out of the hat at a moment's notice for the rest of your career.  Tricks that will make you a hero to producers and look like a seasoned pro to those in the trailer.  Between Barry and Brad they have spent 54 years of experience in the trenches, honing their craft.  I know this class will be a great hit, and I hope that we get a full class of 12.  Please sign up.
CSATTF SKILLS TRAINING – "THE APPLICATION OF BALD CAPS":  
July 9-10, 2016 Saturday & Sunday, the application of Bald Caps will be presented to our Roster Make Up Artists at MUD by one of our premier Bald Cap Artisans- Michael Mosher, Journeyman Make up Artist.   Mike is well known for being an expert at caps and an all-around talented Make Up Artists; we are very fortunate to have caught him on hiatus from his regular job as key make- up on the TV series "The Originals" being shot in Atlanta, GA.  His film credits include, "Titanic", "Cowboys and Aliens", and the "Resident Evil-Extinction", to name a few.  I know that you will enjoy this informative and innovative class for the application of Bald Caps. 
If you are a Journeyman or Trainee Make Up Artist you are eligible to take these classes.   You must first be approved by CSATF, and only WHEN Local 706 submits the application.   Please contact Diane at dburns@ialocal706.org, she will email you the application.  Please complete and return with payment of $50.00.  No refunds.
---